Shawn S. Talley
SVP, Chief Human Resources Officer
Shawn leads all human capital planning and execution (talent acquisition, development, and management), employee engagement, change enablement and DEI, that allow Enterprise to deliver on its mission and objectives. He also partners with business, program, shared services, and operational leaders to drive the organization's commitment to its staff to be an employer of choice, and promote diversity of representation at all levels while fostering an inclusive culture.
Prior to joining Enterprise, Shawn provided award-winning, best-in-class strategic expertise for over 25 years in human resources, organizational development, management consulting and diversity. Shawn co-designed and instructs Towson University's Human Resources master's degree program: Introduction to HR Course.
 
Most recently, Shawn was Chief People & Diversity Officer at NCQA leading the effort to win the 2022 Chesapeake Human Resources Association (CHRA) James W. Rouse Excellence in Diversity Award. He was Chief Human Resources Officer & Chief Compliance Officer at Integra ServiceConnect and VP of Human Resources at NovaSom. The latter two organizations focused on providing health care to underserved populations. Previously, he led HR teams and functions at Baxter Healthcare, Citigroup, The Home Depot, and Verizon. Shawn started his career at Business Support Training as one of the first instructors to provide diversity training to the U.S. Department of Commerce under the late Secretary Ronald Brown. A social justice advocate, Shawn is passionate about development and committed to helping all staff reach their potential.
Shawn received a dual B.S. in mass communications and political science and his M.S. in human resource development from Towson University. Shawn is a certified Professional in Human Resources (PHR), Leadership Architect Certified, holds a yellow belt in Six Sigma, and is Certified in Diversity & Inclusion through Cornell University. Shawn serves on the Board of Directors for Baltimore Health Care for the Homeless, Prestige Healthcare Resources, and as an Advisor at the Tahirih Justice Center. Shawn is also a frequent contributor to 96.3 FM, WHUR's Daily Drum news program providing expertise to HR and job-related topics.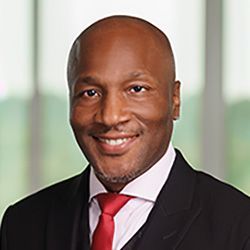 Office Location
Columbia Headquarters
70 Corporate Center
11000 Broken Land Parkway,
Columbia, MD 21044