Ayonna Blue Donald
VP, Ohio Market
Ayonna Blue Donald is vice president, Ohio market for Enterprise Community Partners. Ayonna leads Enterprise's work across the state, advancing housing-based programs and creative policy solutions that help Ohioans achieve housing stability and economic mobility.
A longtime public servant for the city of Cleveland, Ayonna served as director of the city's Department of Building and Housing from 2017 to 2021 and most recently served as the chief of Commercial Services and Governmental Affairs for the Department of Port Control.
As the director of Cleveland's Department of Building and Housing, Ayonna oversaw the enforcement of the city's land use ordinances; eliminated thousands of vacant and abandoned properties throughout the city; reinstated a systematic rental inspection program; established strong relationships with community leaders; and worked hand in hand with the Lead Safe Cleveland Coalition to legislate and implement a lead safe certificate program.
Originally from Detroit, Ayonna first made Cleveland home when she earned a bachelor's degree in mechanical engineering from Case Western Reserve University. She also holds a juris doctor from the University of San Francisco School of Law. Ayonna has served as the president of the Greater Cleveland Delta Foundation Life Development Center and was named a Woman of Note by Crain's Cleveland Business in 2021.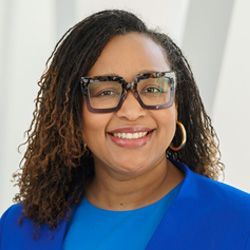 216.325.7933
Office Location
Cleveland
812 Huron Rd E
Cleveland, OH 44115