Ismael Guerrero
President and CEO, Mercy Housing
Ismael Guerrero became Mercy Housing's President & CEO July 1, 2020. He joins the organization with 25 years of groundbreaking achievements in community development. Guerrero has pioneered the coupling of healthcare and housing as well as success with innovative mixed-income communities.
Before joining Mercy Housing, Guerrero was the Executive Director of The Housing Authority of The City and County of Denver (DHA) for 13 years where he oversaw a 5,300-home portfolio including Public Housing, Section 8, and Workforce rental units while administering over 6,900 Housing Vouchers which made it the largest housing authority in the Rocky Mountain Region. His leadership supported DHA with innovative developments including the Mariposa District TOD Redevelopment, platinum-standard mixed-use development with 800 units, and the Sun Valley EcoDistrict redevelopment at the Federal & Decatur Station with 900 units. DHA was a local leader in affordable housing, then Guerrero carried it to the national spotlight with these transit-oriented, mixed income, LEED-certified developments.
His in-depth understanding of the connection between housing and healthcare led him to spearhead transformative programming to improve the quality of life for families with low incomes through programs like the Youth Employment Academy, Healthy Living Initiative, Connect Home Denver, and the West Denver Renaissance Collaborative. 
Before DHA, Guerrero was the Vice President and Business Development Officer for U.S. Bank Community Development Corporation structuring investments in Low Income Housing Tax Credit Partnerships. He also served as the CFO of Rocky Mountain Mutual Housing and Vice President of The Resurrection Project in Chicago. 
This is his second time working with Mercy Housing as he was the Vice President and Director of Real Estate Development for Mercy Housing Mountain Plains from 2000–2003. He has shown a lifetime commitment to serving low-income families as he shares Mercy Housing's dedication to offering service-enriched affordable housing that helps communities to be vibrant and healthy.
Guerrero is a board member for the Council of Large Public Housing Authorities, National Housing Trust and Colorado Health Foundation. Additionally, Guerrero has published articles that explore affordable housing's relationship with healthcare and solar energy. He holds a Bachelor of Science in Industrial Engineering from the University of Illinois and a Master of Business Administration in Finance and Accounting from the University of Chicago. Guerrero enjoys skiing and the outdoors with his family in Denver, CO.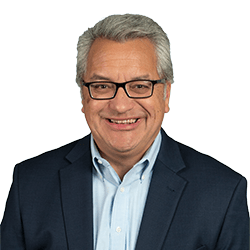 Board Position
Enterprise Community Partners