Kari Downes
EVP, Housing Credit Investments
Kari Downes is executive vice president of Housing Credit Investments, Enterprise's Low-Income Housing Tax Credit syndication business. She oversees the investor services and operational workings of the business, including the investor relations and capital raising teams, credit, LIHTC structuring services, business systems and our asset management affiliate, Enterprise Community Asset Management (ECAM).
Kari has been in the Housing Credit business for over 20 years. She began her Enterprise career in 2002 managing acquisitions in several southwestern states. From 2007 to 2018 she managed the capital markets/investor relations group, providing direction and oversight for the company's key investor relationships for the Low-Income Housing Tax Credit product. She was also responsible for the development and implementation of all investment fund strategies including structuring, pricing and closing.
Prior to joining Enterprise in 2002 as a development officer, Kari was an underwriter with Lennar Affordable Communities. Prior to that, she worked as a market analyst for Lend Lease/Boston Financial. She has a bachelor's degree in finance and operations management from Boston University.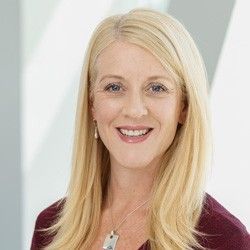 503.553.5720
Office Location
Portland
1001 SW 5th Avenue
Portland, OR 97204