Phyllis R. Caldwell, Vice Chair
Independent Advisor and Owner, Wroxton Civic Ventures, LLC
Phyllis Caldwell is an independent advisor, corporate director, impact investor and former banker.  She is the founder and sole member of Wroxton Civic Ventures, LLC, which offers advisory services and impact investments to small and emerging social enterprises. She currently serves on the boards of Ocwen Financial Corporation, JBG SMITH Properties, OneMain Financial and Chemonics International.  
Phyllis brings over 30 years of experience in housing and community development finance in the corporate, government and nonprofit sectors. She served at the U.S. Department of Treasury under President Barack Obama, where her team was responsible for implementing foreclosure prevention initiatives in response to the 2008 financial crisis.  Previously, Phyllis was president and CEO of Washington Area Women's Foundation. She retired in 2007 from Bank of America, where she held various executive roles including President of Community Development Banking.
Over the course of her career, Phyllis has served on several corporate and nonprofit boards including City First Bank of DC, Low Income Investment Fund (LIIF), Community Preservation and Development Corporation (CPDC) and Center for International Forestry Research in Bogor, Indonesia. 
Phyllis received her MBA from the Robert H. Smith School of Business at the University of Maryland, College Park, and is an Executive-in-Residence at the Smith School. She holds a bachelor's in sociology and urban planning, also from the University of Maryland, College Park.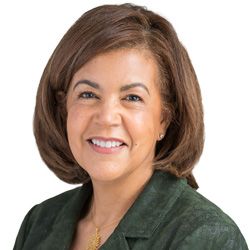 Board Position
Enterprise Community Partners (Vice-Chair)
Office Location
Columbia Headquarters
70 Corporate Center
11000 Broken Land Parkway,
Columbia, MD 21044