Early adopters of the most advanced version of Enterprise Green Communities Criteria are making strides as their journeys to meet the 2020 Criteria continue. Thessalonica Court in the Bronx led the way for our First 20 cohort. The Arch at St. Michael in Cleveland's Clark-Fulton neighborhood is also progressing on its path to certification.
Built in 1906 as St. Michael School and later Central Catholic High School, the iconic building and adjacent convent will be transformed into 46 affordable homes for seniors. The apartments will serve residents with very low incomes, who earn 31 to 50 percent of area median income. Cleveland's CHN Housing Partners leads the project, working with local architect Hiti, DiFrancesco and Siebold, Inc. (HD+S) and Sol design + consulting.
The green adaptive reuse of The Arch at St. Michael will create healthy, efficient and climate-ready affordable homes – while preserving an architectural cornerstone of the neighborhood that had been decaying and at risk of being lost.
"The creation of the housing units will help provide long-time residents in the area an opportunity to age in place within their own community, while preserving affordability and promoting a walkable and engaged neighborhood," said Jennifer Koperdak, project manager for CHN Housing Partners. 
Certification to the 2020 Enterprise Green Communities incorporates five themes critical to healthy, sustainable affordable housing development: integrated design, a path to zero energy, healthy housing, water and resilience. Developers who achieve 2020 certification also receive WELL certification through Enterprise's partnership with the International WELL Building Institute (IWBI).
Image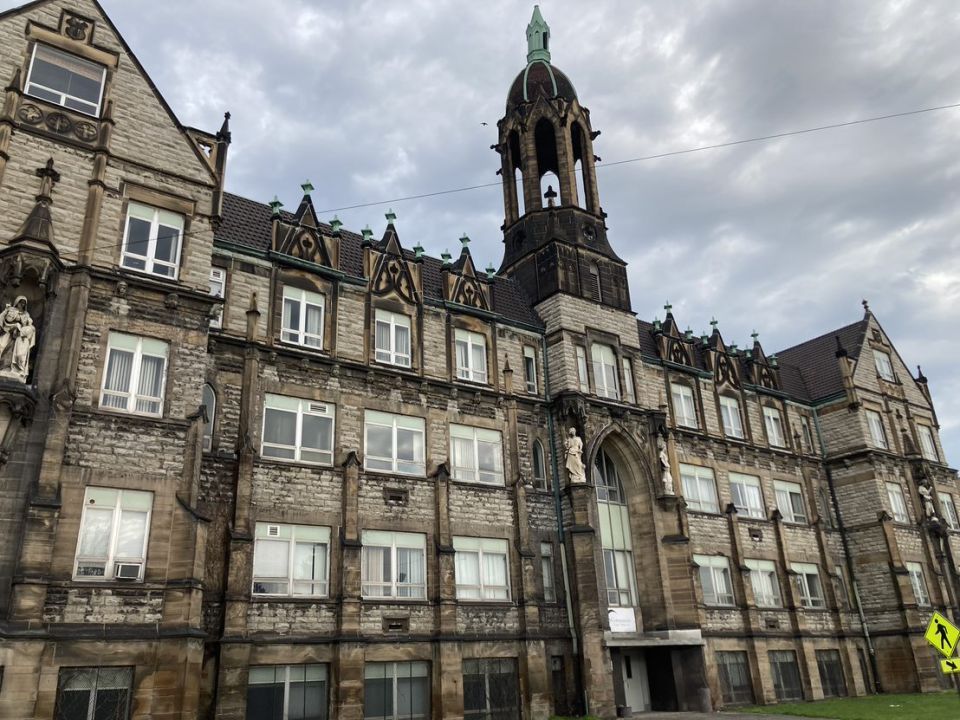 The nearly 80,000-square-foot development has been approved for prebuild, targeting 58 points under the Green Communities Criteria. CHN is finalizing the capital stack, drawing from multiple funding sources, including historic preservation tax credits, to maximize the scope and impact of the property's transformation.
Enabling the "independent" in senior independent living is a critical component of The Arch at St. Michael. "The proximity of Metro Health Center, providing access to quality medical care, and having several community resources within walking distance makes this location attractive for senior housing," said Koperdak. "The integrated design process, giving residents a voice during design, has shaped the features that will be provided at The Arch at Saint Michael. Resident priorities centered around providing active design elements, open space and universal design features."
Section 7 of the Green Communities Criteria, Healthy Living Environment, has been significantly expanded in the 2020 version. Credits are now grouped into subcategories: Reducing Exposure to Environmental Hazards, Managing the Indoor Environment, and Promoting Health Through Design. The latter encompasses significant revisions to key components – Active Design: Promoting Physical Activity and Beyond ADA: Universal Design – plus a new component, Healing-Centered Design.
"The new and revised credits to promote health through design provide a pathway to meet residents' priorities in concert with site credits such as 2.7 Preservation of and Access to Open Space," said architect Brian Grambort, associate at HD+S.
Grambort added that The Arch at St. Michael is designed to create an environment that allows residents to feel safe. Key features include wide hallways, elevators, automatic door sweeps, clear signage, uniform lighting and minimizing blind spots throughout the building layout. Residents also expressed a desire for flexibility to meet changing needs and allow for personalization. As a result, they will be able to control lighting, HVAC and shading devices. Plans also include moveable furniture in living spaces and common areas.
"These and other features – including a gym and universal design elements – complement the efficient, resilient and other healthy building design strategies, supporting residents' independence and emotional well-being," said Sanyog Rathod, president, Sol design + consulting, which is tasked with verifying the property's Green Communities certification.
Other design elements will focus on energy efficiency, including improving the building envelope. Insulating existing masonry requires careful attention to detail to protect and preserve the existing brick.
Rathod said the building envelope will be improved with robust roof insulation and high-performance windows. Other efficiency strategies planned include efficient lighting, HVAC replacement (electric air source heat pumps), and use of WaterSense-certified fixtures and ENERGY STAR-certified appliances to reduce water usage by nearly 40 percent over baseline.
Plans are underway to pursue credit for the 2020 Criteria's Moving to Zero Carbon: All-Electric Ready, positioning the buildings to move fully to electric when the market conditions are right.
"As the third-party 2020 Green Communities verifier, we see this as an opportunity to advance research in green historic affordable housing for seniors," said Rathod.
Interested in certifying your property to 2020 Enterprise Green Communities? Contact certification@enterprisecommunity.org.