April is National Fair Housing Month, and this year we celebrate the 53rd anniversary of the Fair Housing Act, reflecting on the impact of this landmark legislation, and committed to the work still left to be done. Dismantling the enduring legacy of systemic racism in housing has become central to Enterprise's mission, and fighting for fair housing and equitable, inclusive communities is a central component of our work in the New York market. 
We are pleased to share highlights from Enterprise New York's Fair Housing Month activities this year. 
Eliminating Barriers to Fair Housing New York (EHBNY)
On April 14th, Enterprise held a convening for Eliminating Barriers to Housing in New York (EHBNY), our two-year program in partnership with the New York State Office of the Attorney General to support six full-service fair housing organizations. These organizations are:
The event included program presentations by the fair housing organizations and remarks by Senator Brian Kavanagh, NYC Housing Preservation and Development Commissioner Louise Carroll, NYS Homes and Community Renewal Commissioner RuthAnne Visnauskas, NYS Division of Human Rights Commissioner Johnathan Smith, and Office of the Attorney General Civil Rights Bureau Chief Jessica Clarke. 
Image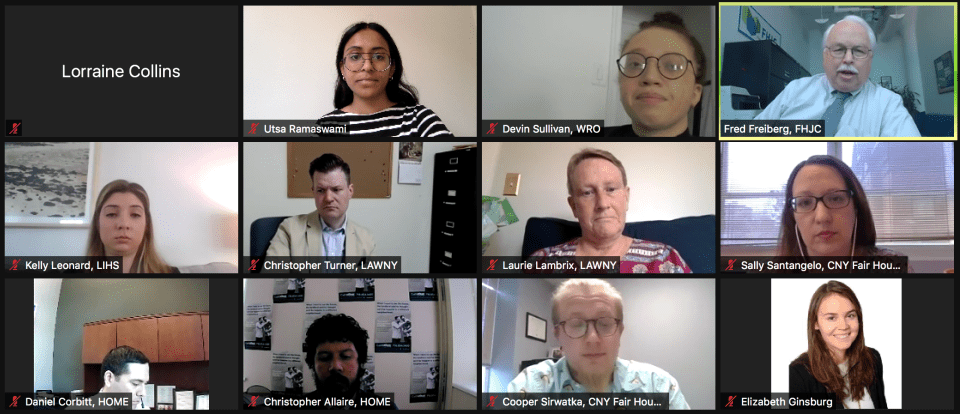 Enterprise granted $4.5 million to these organizations with the goal of eliminating systemic discrimination based on race, national origin, disability, source of income, and other protected classes. This is especially important now as communities likely to experience housing discrimination have been hit hardest by Covid-19. The full event, which was attended by over 140 attendees, can be viewed here.
Undesign the Redline
On April 22nd, Enterprise hosted a virtual tour of Undesign the Redline for New York State legislators in partnership with designing the WE, Zillow, and State Senator Brian Kavanagh. Undesign the Redline explores the history of structural racism and inequality in urban planning from 1938 Redlining maps until today, and how we can "undesign" these systems with intentionality.
Image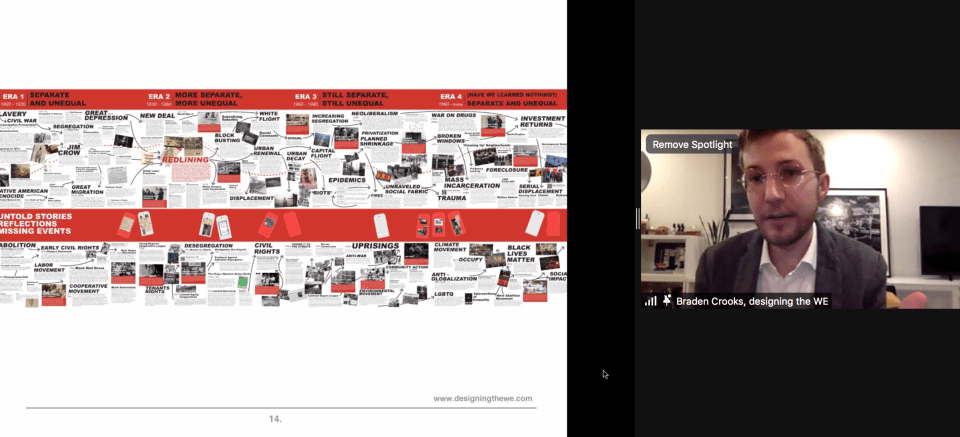 Initially a physical exhibit in Enterprise's office, we worked with designing the WE to create a virtual version, featuring stories from around New York State.  A panel discussion on patterns of systemic racism and inequity broadly and opportunities for repairing and healing the legacy of redlining across the state followed, featuring Senator Brian Kavanagh, Assemblymember Harry Bronson, Assemblymember Aileen Gunther, Assemblymember Pamela Hunter and Assemblymember Michaelle Solages. Over 60 attendees representing more than 20 legislative offices attended the event. 
Partnership with Zillow
Since 2019, Zillow Group has been a proud partner of Enterprise's fair housing work. In commemoration of Fair Housing Month, Zillow sponsored both our EHBNY and Undesign the Redline events. In partnership with Enterprise, Zillow also launched ads on StreetEasy, Its NYC brand, to educate visitors about source of income discrimination, with links to our Statewide Source of Income Coalition's website, EndIncomeBiasNY.com. See a more complete list of Zillow's Fair Housing Month activities, including more information on our Undesign the Redline event.