August marks the first anniversary of passage of the Inflation Reduction Act (IRA), a landmark law that that includes unprecedented efforts to address climate change in the United States. Clean, efficient, and climate-resilient housing is a key component of the far-reaching legislation, and Enterprise is carefully following aspects of the IRA that directly affect multifamily affordable housing.
We spoke with Krista Egger, Enterprise's vice president of Building Resilient Futures, about the latest developments.
We want to ensure the greatest benefits accrue in communities of color and communities with lower incomes. These investments are critical to shifting the status quo.
---
Can you give us an update on the IRA? How have Enterprise and the affordable housing sector been preparing?
We are closely tracking updates and development of programs from the U.S. Department of Energy, the U.S. Environmental Protection Agency, the U.S. Department of Treasury, and the U.S. Department of Housing and Urban Development. They are on different timelines and at different stages of creating their programs.
We are working with federal agency staff on program development and responding to their information requests to ensure community-based organizations will be able to access the money and use it effectively. And we're getting the word out through our nationwide network about who is eligible for what funding, and how to tap into and braid it into other funding sources.
HUD has been the first one out of the gate. In May, it released its notice of funding opportunities for the Green and Resilient Retrofit Program (GRRP). Rolling applications will be open through early next year, which is good because not everyone will be able to apply now. After HUD makes decisions on the first awardees, we plan to do a learning session to track those projects and share what made them successful.
Solar for All, the first of three competitions, opened at the end of June for EPA funding through the Greenhouse Gas Reduction Act. And DOE funding will be distributed to state and tribal governments, who are in the early stages of designing programs. The Treasury will have credits and rebates, with opportunities starting later this year.
People are excited and hopeful about the potential to access funding that's never been available before. But they're overwhelmed and unsure how to prioritize and decide whether to go for resources now or wait. Affordable housing organizations have not had additional staff capacity to help them navigate this, so that's been challenging.
Equity is at the core of Enterprise's work and the IRA offers a critical opportunity to meet climate commitments while addressing inequity. What are some ways the law can help achieve this?
Image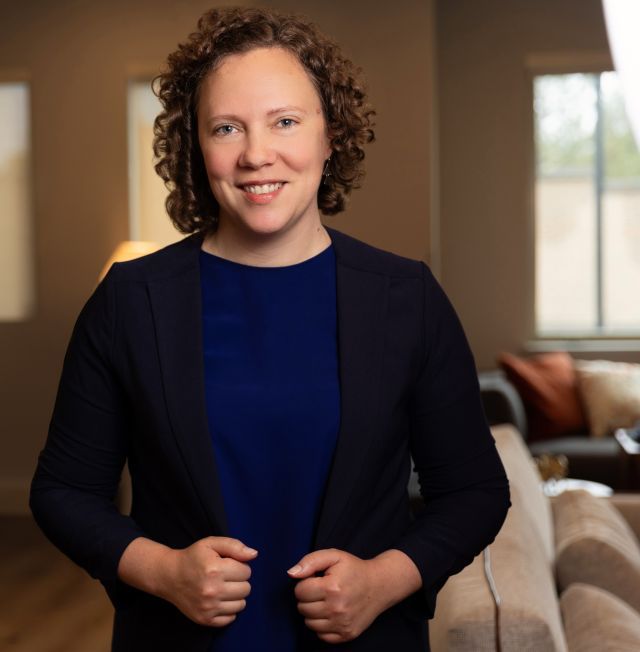 A federal mandate mirroring the White House's Justice 40 Initiative requires that at least 40% of all benefits from certain federal investments go to 'disadvantaged' communities. This applies to the IRA, and we want to ensure 40% is the minimum, not the maximum. The health and wealth gap in communities of color and communities with lower incomes will keep widening unless we take a different approach to how housing is developed and retrofitted.
Investments for creating new homes or retrofitting homes will last for decades. If you install a poor heating and air system now, it likely won't be replaced for 15 years. If you install heating, but not cooling, you're setting up folks to live in a home that will likely experience severe distress as temperatures rise.
There are ways to create housing to help protect families. For example, heat pumps that deliver cooling and heating through the same mechanical box offer cost savings and support health and well-being.
The IRA includes a component on electrification of housing and decarbonization. Are there recent developments in this area?
Earlier in my career, the sector focused on reducing energy, but in the past few years we have evolved to recognize that the big prize is reducing emissions. Through IPCC [United Nations Intergovernmental Panel on Climate Change] reports, we've seen an international consensus from the scientific community that eliminating emissions is essential for slowing down climate change. The wildfires in Canada, the hurricanes in the Atlantic – these climate disasters are growing because of carbon emissions.
And the buildings sector is responding – building performance standards for existing stock are being passed in cities across the country. Manufacturers of building systems are experimenting with and scaling electric systems in new ways. Certification programs are creating and sharing guidance to implement decarbonization more widely. And practitioners are demonstrating successes and challenges with individual projects.
When it comes to solar panel technology, for example, that sector has done amazing things to increase the availability of solar panels and finance their installation, so it's now cheaper in many places to use solar than fossil fuels.
In the building sector, this means thinking about which pieces of equipment use power and how to run them on electricity rather than gas. This includes heating systems, water heaters, stoves, and dryers. We're looking at how to retrofit buildings so they switch to electric without increasing utility expenditures, and we're building new homes with all-electric appliances and systems.
What are some new challenges that come along with the enormous opportunities brought by the IRA?
Change can be hard. And in the affordable housing sector, we don't have much of a margin for mistakes.
In some regions of the country, even if you use the same amount of energy, you'll pay more for electricity than if you were using gas; in other places, it's less costly. For example, in Chicago, electricity is cheaper, but in New York, it's more expensive, so folks in the Midwest are more motivated to switch to electric than in the Northeast.
More cities are requiring new construction to be electric – we're seeing a wave of the future in terms of policy on the local level.
We're working on affordable housing decarbonization demonstration projects in cities with different utility structures, climate zones, and technologies to come up with best practices. In Chicago, Denver, Los Angeles, and New York, we're collaborating with local organizations to set up the transition to electric so it's done well, is cost-efficient, and beneficial to owners and residents rather than disruptive.
Coordinating with utility providers on electric service upgrades is a challenge we need to work through at a policy level so that building owners have clear expectations and paths for moving forward. Another challenge is mitigating cost implications of electrification upgrades for residents' utility bills. We're exploring solutions to change utility rate structures for properties without putting an energy burden on residents. 
Unfortunately, we'll have to go through the learning process at the same time as rapid implementation.
You've been in the affordable housing field for nearly two decades. Is there anything new or exciting you're seeing now as the sector is on the verge of some major changes?
It's been incredible to see how we shifted to create innovative approaches for driving down emissions. We're seeing more people leverage technology in more and bigger ways. For instance, Cadence OneFiveo based in New York is compiling public data about building characteristics, and using algorithms to calculate emissions, and figure out which retrofits can reduce them and for how much. That could significantly cut down the bid process.
Hopefully, more folks will leverage the good side of AI [artificial intelligence] to accelerate the pace even more.
One thing is clear: there won't be enough money to get all the work done, but it will be enough to shift the sector.
Vesna Jaksic Lowe is a freelance writer and communications consultant whose byline has appeared in such publications as the New York Times, the Washington Post, and the New York Daily News.