Our ESG Commitment
Enterprise manages environmental, social, and governmental factors to better manage risk and drive financial success so that we may more sustainably serve our mission.
Sustainability Vision and Framework
Image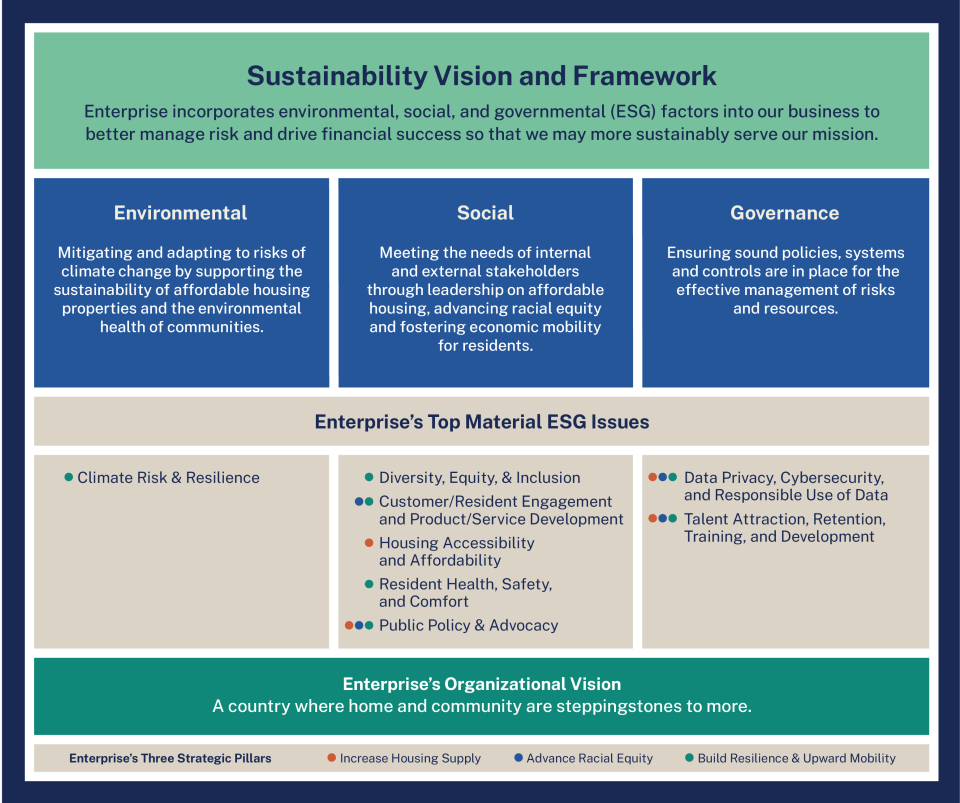 * Enterprise's top material ESG issues were determined through interviews with over one hundred internal and external stakeholders in the affordable housing finance, policy, and programmatic space.
Our ESG Investment Policy 
Image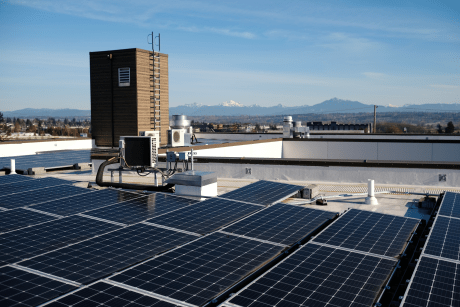 ESG is an important tool to manage risk, achieve long-term investment returns, and generate positive impact for the residents and communities in which we invest. We incorporate ESG analysis through each phase of the investment cycle, with variations based on asset and financial product, but with certain commonalities across each.
Product Development: we develop capital products that address market gaps and investor needs.
Originations and Acquisitions: we factor in mission alignment with partners; location, with an eye towards disaster vulnerability and risk mitigation; affordability; quality and appropriateness for resident base; public sector alignment, and more.
Transaction Screening: we review transactions with an ESG lens prior to bidding.
Underwriting: we apply ESG principles to the underwriting phase help ensure the long-term sustainability of a given development.
Asset Management: we help oversee the long-term success of our investments as fiduciaries to investors.
Asset Disposition: we ensure that assets approaching maturity will be transitioned as responsibly as possible, prioritizing continuation of affordability beyond the life of our investment. 
Focus Areas 
Our ESG Investment policy is focused on several key areas, reflecting Enterprise's top material issues and determined by our ability to influence these factors in the investment process:
Image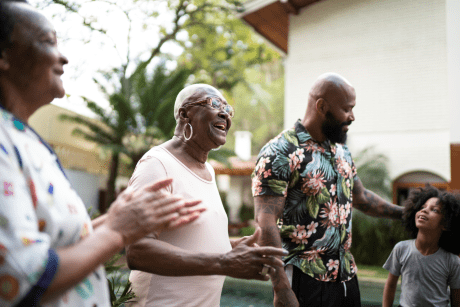 Housing Affordability and Accessibility: Enterprise commits to specified levels of affordability in each project in which we invest across our business lines, as determined on a project-by-project basis, and in agreement with various parties, including project sponsors, local jurisdictions, investors, and others.
Climate Risk and Resilience: Enterprise commits to pro-actively managing climate risks in our investments throughout the investment lifecycle, with an eye toward both supporting the physical protection of assets and increasing their efficiency: 

locations are reviewed for risk exposure and project design is adjusted, if necessary, to reduce climate risk and increase resilience.
efficiency and conservation are prioritized to reduce GHG emissions, lower costs and adapt to the energy transition.

Customer and Resident Engagement in Product and Service Development: we aspire to consistently incorporate and balance the needs and requirements of each stakeholder in the process – in particular: investors, developers and residents.
Diversity, Equity, and Inclusion (DEI): we are committed to DEI inside and outside our organization: internally, reflecting our own company culture, leadership (including board), and staff; and externally, representing the communities and various stakeholders we serve.
Resident Health, Safety and Comfort: the developments we invest in should be suitable for residents and most conducive to quality of life. 
Learn more about our Capital ESG Investment Policy.