Since 2001, the Enterprise Women's Network has mentored girls in the Sandtown-Winchester community because we know that home and community are steppingstones to more. 
Over the 2022-2023 school year, we were proud to welcome another 22 mentees and 20 mentors to meet on a bi-monthly basis from October through June to help girls in the 3rd to 8th grades build self-esteem, make healthy choices, develop strategies to address problems, achieve personal and academic success, all while building strong and meaningful relationships.
Celebrating 20 years of service and community
Image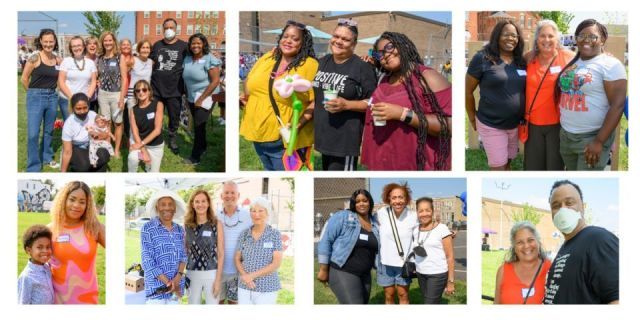 We kicked off the 2022-23 Mentoring Year by celebrating our 20th Anniversary of the Enterprise Women's Network. Mentors and mentees, current and past, as well as friends and family joined us to eat, dance, play and celebrate 20 years of steady, meaningful community service and rich relationships!
Enterprise Mid-Atlantic VP David Bowers shared his charge for the generations of girls and women who have gone through the program.
The Power of Words 
This year's theme was the "Power of Words." As mentors, we see the girls as leaders who care about their community, love to learn new things, and make friends. We wanted to challenge them to think about powerful words from speeches, literature and music. And to think about the power of their words and encourage them to express themselves. 
We start every session by say our Affirmations together. 
"I am great because...I come to school, every day, on time and ready to learn. 
I am great because …I believe in myself and my abilities and have amazing potential. 
I am great because...I am beautiful inside and out and I am unique and special."
These powerful words ground our time.  
In this spirit, girls were each given a Memory Book to personalize and decorate themselves. Throughout the year, we had opportunities to draw and write with creative prompts to encourage the girls to express themselves freely. 
Incredible Trips and Opportunities
In November, we took a field trip to the Enoch Pratt Free Library Central Library in the heart of Baltimore's Mt. Vernon neighborhood. We spent the day exploring the newly renovated Teen Room, learning about resources, playing, and relaxing together.  
In February, we took the girls to the Planet Word Museum in Washington, DC to get inspired about the origins of language and even do a little karaoke. 
Image

Our last trip of the year was to a Mentor's family farm to swim, play and get a lesson on caring for bees in a backyard apiary. Throughout each trip and experience, we prioritize unstructured time for the girls to socialize, play, and learn together.
Image

Last Memories
This year we incorporated a session on yoga and mindfulness. We brought back partners like Planned Parenthood of Baltimore to share age-appropriate content on the girls' changing bodies, health, and relationships. 
In May, one of our former mentees – now an adult and parent in the school community – joined us to share with the girls how meaningful the experience was for her as a child. 
"These ladies are here for you, to talk with you about anything you may be going through in life. Even at 28, I'm in contact with my mentor. I know many of you are preparing for high school – utilize this program and all that it offers." 
Later that month, we hosted the 10th Annual Scholastic Book Fair at the school so that the entire school community could receive free books. Over 400+ students and staff received free books thanks to the generosity of many donors. 
Image

Finally, we toasted the end of the year with a Tea Party, an annual tradition that we brought back. We enjoyed tea, food, and a mini lesson on etiquette and music as we enjoyed each other's company. We also recognized one of our 8th grade students with the Tina Hike-Hubbard Loves the Kids Award. Named in honor of a former Enterprise employee, the award recognizes a student with strong work ethic, progress made during the mentoring program, compassion towards others and signs of servant leadership qualities. 
Image

Image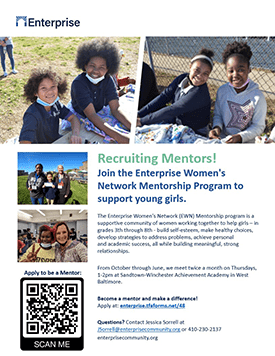 We're always looking for new mentors! Apply to join us!
The Mentor Application is open through October 31, but we encourage you to apply by September 15.
Interested in sponsoring the program?