With a mission to provide help and hope to neighbors in need, St. Vincent de Paul Georgia has been serving individuals, families and communities across Georgia since 1903, stabilizing those in crisis and creating paths to self-sufficiency. Most recently, the organization participated in Enterprise's Faith-Based Development Initiative in the Southeast, receiving training, technical assistance, and funding to support affordable housing development.
Enterprise spoke with St. Vincent de Paul Georgia Executive Director Mike Mies to dig deeper into their work.
Image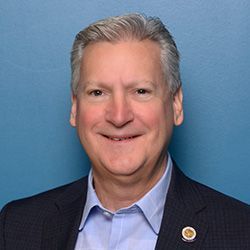 Could you tell us a little bit about the work that you do at St. Vincent de Paul Georgia?
Mike Mies: St. Vincent de Paul has been serving neighbors in need in Georgia for 120 years – since 1903!  Our network of 3,000 volunteer members in 73 chapters across the state provides critically needed help to neighbors in the areas of Hunger, Housing and Health.  Last year we provided service to more than 150,000 of our fellow Georgians.
How have the last 2-3 years challenged you at St. Vincent de Paul Georgia? What has been the hardest and best part of the experience for the St. Vincent de Paul for you? For those you serve?  
MM: The greatest challenge is the overwhelming demand for our services, and the limited resources to serve all of those who turn to us for assistance.  The need for our services these last three years has been unprecedented, beginning with the COVID epidemic and more recently, with high inflation impacting our neighbors. The hardest part is not being able to assist all in need, particularly our unsheltered neighbors.
What have you learned in this unique and challenging time? Will you make any permanent changes going forward?  
MM: Given that we cannot serve all those in need, we need to remind ourselves that how we serve those we do serve is more important than how many we serve.  By this I mean that it is an important part of our mission to serve those in need as "neighbors", treating them with dignity and respect, and providing hope in addition to help.
Why did St. Vincent de Paul Georgia choose to participate in our Faith-Based Development Initiative? What do you hope to achieve?
  
MM: We participated in FBDI because we were interested in pursuing an affordable housing development in the Lakewood Heights neighborhood of Atlanta, and needed to educate ourselves on what is involved and how to go about it.  This is our first "bricks and mortar" housing initiative.
How would you describe your experience in the Faith-Based Development Cohort? How has it helped the goals of St. Vincent de Paul?  
MM: We loved participating in the FBDI cohort.  It was a great learning experience, and we were very impressed with the Enterprise team and the knowledge and insights that were shared.  It gave us the confidence to pursue our development.
What do you think will change about affordable housing over the next 5 years? How are you excited about St. Vincent de Paul Georgia impacting that change?  
MM: I think affordable housing will continue to get more creative over the next five years.  Whether it is developing tiny homes, motel/hotel conversions, office building conversions, or traditional housing developments, it seems that there is a serious determination on the part of many organizations to help address this issue of severe shortage of affordable housing.  We're excited to play a role in that.
What else should people know about St. Vincent de Paul Georgia? What makes St. Vincent de Paul Georgia unique as a faith-based organization? 
MM: We are an organization of committed volunteer members who are inspired by Gospel values and seek to grow together in our faith through person-to-person service to our neighbors in need.  What really makes us unique is that most of our service is performed through "home visits" to neighbors who turn to us in times of crisis.  Being in our neighbors' homes gives us a unique perspective on the underlying conditions that are resulting in their needs and allows us to better address their circumstances.