NEW YORK - Enterprise Community Partners (Enterprise) today announced the closing of the Equitable Upward Mobility Fund (EUMF), a $190 million Low-Income Housing Tax Credit fund designed specifically to support economic mobility with a focus on racial equity. With commitments from investors including American Express, Comerica, Fifth Third, First Republic, JPMorgan Chase and US Bank, it will help create more than 900 homes and support nearly 2,500 residents. The fund builds on Equitable Path Forward, Enterprise's five-year, $3.5 billion initiative to help dismantle the legacy of racism in housing.
"When investors make intentional choices about the businesses and communities they support, they can make a real difference in people's lives. That's the idea behind the Equitable Upward Mobility Fund," said Scott Hoekman, president of Enterprise's housing credit investments business. "We can leverage the Low-Income Housing Tax Credit, our best tool for creating and preserving affordable homes, to invest in developers of color and create homes that support long-term economic mobility for residents." 
Grounded in academic research and data-driven industry practices, EUMF is an impact investing vehicle focused on fostering upward mobility while also advancing racial equity. The fund's investments will improve and preserve the affordability of properties in high-opportunity neighborhoods or in quickly gentrifying areas. It also invests in properties being developed by housing providers of color and those proven to help residents achieve upward mobility through service-enriched housing models.
The fund also contains a resident services reserve, funded by both investors and Enterprise, that will be used to fund services designed in cooperation with developers and tailored to facilitate upward mobility for residents, such as financial literacy classes, increased digital access, emergency savings programs, job training and afterschool programs.
Two properties that are emblematic of the EUMF's investments are Fourteen02 South Park, a new apartment community in Madison, Wisconsin, and Larchmere Homes, the new construction of 30 affordable lease-to-purchase homes in Cleveland, Ohio. 
Image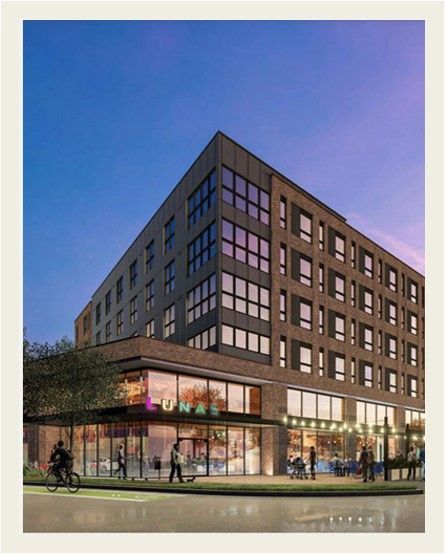 Fourteen02 South Park will provide 150 affordable apartments to Madison families and individuals earning between 30% and 60% of the area median income (AMI). The mixed-use property will feature a grocery store on the ground floor in addition to housing.  It is located in an area with an upward mobility rate that ranks in the top third of census tracts nationally. Additionally, the project's sponsors, Rule Enterprises and Movin' Out, are Black- and women-led, respectively. Because the deal leverages Enterprise's Standby Guaranty Facility, a credit enhancement tool that helps unlock access to capital for developers of color whose balance sheets do not meet traditional investor requirements, Rule Enterprises was able to bring stronger liquidity as a guarantor, and as a result share more equally in the economics of the deal. 
Larchmere Homes involves the new construction of 30 single-family homes that will be leased, with the option to purchase after 15 years, to Cleveland families earning up to 60% of the AMI. Located in a neighborhood with primarily residents of color, Larchmere Homes is being developed by CHN Housing Partners, who provide services such as financial and homeownership counseling to ensure resident success. That success is clear: Since 1987, nearly 90% of residents in CHN's Lease Purchase Program choose to buy their homes and become homeowners, and 98% of those families are successful in their homes.
About Enterprise Housing Credit Investments
Enterprise's housing credit investments business operates under Enterprise Housing Credit Investments, an affiliate of Enterprise Community Partners – a national nonprofit that exists to make a good home possible for the millions of families without one. We support community development organizations on the ground, aggregate and invest capital for impact, advance housing policy at every level of government, and build and manage communities ourselves. Since 1982, we have invested $64 billion and created 951,000 homes across all 50 states – all to make home and community places of pride, power and belonging. Join us at enterprisecommunity.org