Jacqueline Waggoner
President, Solutions Division
As president of Enterprise Community Partners' Solutions Division, Jacqueline manages a team of more than 300, leading the company's programmatic, policy and advisory work in alignment with its strategic priorities: increasing housing supply, advancing racial equity and building upward mobility and resilience. From working on the ground with local partners in hundreds of communities nationwide, to advocating for affordable housing policy at the highest levels of government, Jacqueline maximizes Enterprise's impact across all 50 states, the District of Columbia, Puerto Rico, and the U.S. Virgin Islands.
Joining Enterprise in 2005, Jacqueline has testified before Congress on key policy priorities and led advocacy on critical issues like vouchers and source of income discrimination. She also manages Equitable Path Forward, Enterprise's $3.5 billion initiative to address racial inequities in the real estate industry. During her previous tenure as Vice President of the Southern California Market, she deployed capital, intellectual resources, and capacity building tools to invest more th $1.3 billion across the state's Central Coast to San Diego. Tapping into more than two decades of experience in commercial real estate lending, Jacqueline works across the country with banks, collaboratives, policymakers and nonprofit partners to fund affordable housing, advocate for low-income families and advance Enterprise's vision of making communities places of pride, power and belonging.
Jacqueline serves on a number of public, nonprofit and advisory boards, including the UCLA Luskin School of Public Affairs Advisory Board (Chair) and the Weingart Foundation Board. She formerly served on the Los Angeles Homeless Services Authority Commission (chair/vice-chair) and its Ad Hoc Committee on Black People Experiencing Homelessness (chair). A Los Angeles native, she holds a bachelor's degree in Sociology and a master's degree in Urban Planning from UCLA.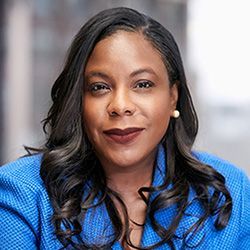 213.833.7988
Office Location
Los Angeles
700 South Flower St.
Los Angeles, CA 90017