Shaun Donovan
CEO and President, Enterprise Community Partners
Shaun Donovan is the CEO and President of Enterprise Community Partners, beginning in fall 2023. One of the nation's foremost leaders in housing and community development, Donovan's 30-year career in public service has focused on building opportunity and fighting for people and communities too often left behind.
He served in President Barack Obama's cabinet for his full eight years in office, as secretary of the U.S. Department of Housing and Urban Development (HUD) from 2009 to 2014 and as director of the U.S. Office of Management and Budget from 2014 to 2017. He was commissioner of the New York City Department of Housing Preservation and Development from 2004 to 2009.
As HUD secretary, Donovan led the fight against the nation's unprecedented foreclosure crisis and served as chair of the president's Hurricane Sandy Rebuilding Task Force. He also advanced landmark fair housing protections and led the strategy that dramatically reduced homelessness around the country, including cutting in half the number of veterans sleeping on our streets and in shelters.
Later, as director of the U.S. Office of Management and Budget, Donovan increased investment in domestic and national security priorities as well as oversaw regulations that reduced inequality, expanded access to healthcare, improved education, and fought climate change. He also served in the Clinton administration as deputy assistant secretary for multifamily housing at HUD and as acting FHA commissioner during the Clinton/Bush presidential transition.
After a mayoral run in his hometown of New York City, Donovan was named a senior fellow by the Ford Foundation in 2022 and currently serves as a trustee of the Urban Institute, Regional Plan Association, Greater NY, and Rethink Food, as well as on the advisory board of Opportunity Insights. He holds bachelor's and master's degrees in public administration and architecture from Harvard University.
Donovan is married to Liza Gilbert, a landscape architect who has designed and restored parks in New York City and across the country. They live in Brooklyn, where they raised their sons Milo and Lucas.
For media inquiries, contact Stephen Fee at sfee@enterprisecommunity.org.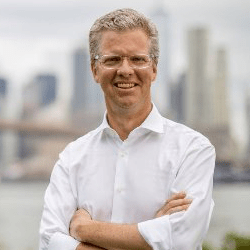 Board Position
Enterprise Community Partners
Enterprise Community Investment
Enterprise Community Loan Fund
Office Location
New York City
1 Whitehall Street
New York, NY 10004