Forty-two organizations have advanced to the second round of the 2023 Housing Affordability Breakthrough Challenge, a national housing innovation competition made possible with the generous support of the Wells Fargo Foundation.
The 42 semi-finalists emerged from an impressive pool of 430 organizations, stretching from Florida to Alaska. Applicants vying for grants of up to $3 million shared their solutions for new, transformative solutions to address the nation's housing challenges and increase access to an affordable place to live across Native, Tribal, rural, suburban, and urban communities.
The 2023 challenge launched in January, casting a wide net for implementation-ready innovations from a wide range of nonprofit, for-profit, and quasi-government entities across three focus areas: construction, financing, and access and resident support.
In addition to grant dollars, winners of the challenge will receive technical support and the opportunity for peer learning with fellow winners through a variety of cohort activities.
Getting to 42
We asked applicants to show how their breakthrough idea would be implemented in one of 38 eligible markets. Applicants also had to demonstrate how their innovation would advance racial equity and, if applicable, improve environmental sustainability.
A team of 55 subject experts from across Enterprise's divisions led an in-depth and holistic review and evaluation of the Round 1 proposals, selecting the semi-finalists through a well-laid, consensus-driven exercise.
"It's a fair, effective decision-making process that involves extensive discussion and draws on the wide breadth of Enterprise's expertise and on-the-ground experience," said Ahmad Abdul-Khalaf, a senior analyst on Enterprise's Policy Development and Research team, who was among the reviewers evaluating the construction-category proposals.
Over 20% of the proposals moving on to Round 2 represent rural and Tribal communities, signaling the challenge's commitment to supporting a diverse group of housing innovations across a range of communities.
"I really appreciated the scope of ideas presented," said Robin Wolff, Enterprise's director of rural housing, who reviewed the applications offering housing innovations in rural and Tribal communities. "We saw proposals ranging from the production of new construction materials to unique approaches for serving residents."
Wolff said the competition marks a rare opportunity to make a substantial investment in breakthrough housing solutions.
"We do not typically get the chance to award grants this large. This amount of support can really help an innovation take off and have a tangible impact on our industry," she said.
What's Ahead for Semi-Finalists
Round 2 semi-finalists have been invited to complete a second application providing a deeper overview of their innovation with more details on its execution and potential for scalability. A team of Wells Fargo leaders with field experience covering the challenge's three focus areas and knowledge of the eligible markets will review and score Round 2 applications.
Innovations selected to advance to Round 3 will be announced in August. In the third and final leg of the Breakthrough Challenge, finalists will make the case for their innovation before a panel of housing and community development experts during a live pitch event this fall. Winners of the challenge will be announced in early November.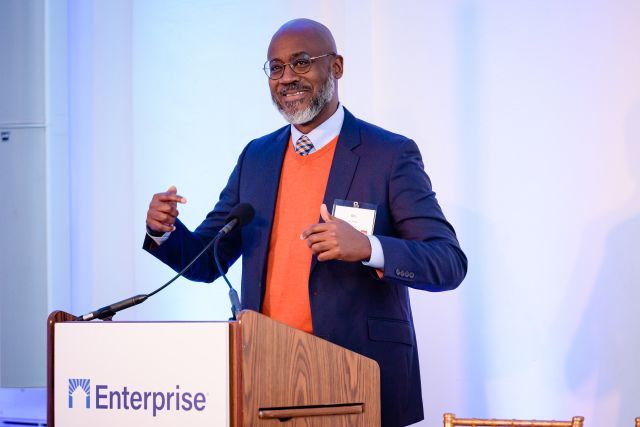 A Renewed Commitment
This is the second cycle of the Housing Affordability Breakthrough Challenge, originally launched in 2020. At an event celebrating the inaugural cohort of winners last December, Wells Fargo Foundation President Otis Rolley announced that Wells Fargo would double its commitment, funding a second $20 million Breakthrough Challenge. "We need to accelerate and support innovation that's going to create real impactful change," said Rolley. "It's going to take a whole lot of us to find new ways of doing the right thing."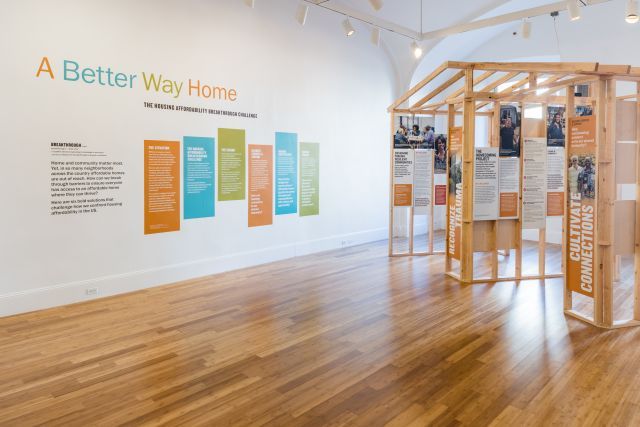 The six winners of the 2020 challenge and their innovations are featured in the exhibit, "A Better Way Home: The Housing Affordability Breakthrough Challenge," on display at the National Building Museum. MASS Design led the design and creation of the exhibit, extended through October 16, 2023, as part of the museum's "Equity in the Built Environment" programs.
With Wells Fargo's support, Enterprise continues to engage and convene our 2020 winners through a newly created Breakthrough Challenge alumni network.
"We all felt aligned with each other," said Julianna Stuart, VP of Community Impact at Preservation of Affordable Housing, speaking of her fellow 2020 winners. "There's so much potential for us to collectively change our housing system. Our hope is to continue this conversation."