Nationwide, more than half of the rental homes affordable to people with lower incomes exist in smaller properties with fewer than 50 apartments. Yet most lack affordability restrictions.
Across different communities and geographies, this vital segment of America's housing stock is vulnerable to rising rents, deterioration, and destabilization, putting owners and residents in jeopardy, too.
Fifteen organizations across Northern and Southern California selected through a competitive RFP process have joined forces to face this affordability issue head on. Enterprise assembled the groups as part of the California Preservation Next Academy. The cohort is comprised of developers and community land trusts working to preserve long-term affordability in small and medium multifamily properties. Their expansive work includes preventing resident and cultural displacement, fostering community stewardship, and investing in healthy, safe homes in the Bay Area and Los Angeles region.
The California Preservation Next cohort members are:
The cohort and academy are key components of Enterprise's national Preservation Next program. The program provides training and tools, catalytic grants, and capital resources to support the preservation of unsubsidized affordable homes in small and medium multifamily properties.
Enterprise's Preservation Next program is made possible with funding from MacKenzie Scott, Kaiser Permanente, and CIT Bank. We are grateful for their critical support.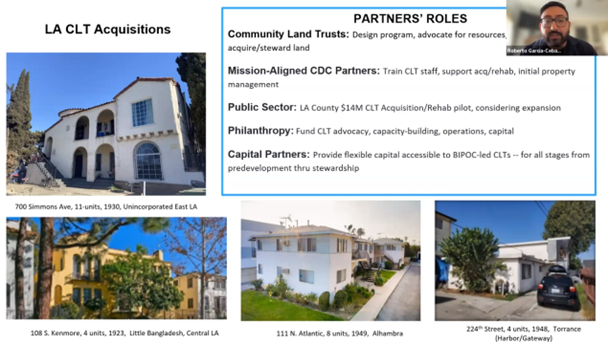 During two cohort sessions to date, members have exchanged ideas and insights, discussing their preservation work, priorities, and organizational readiness. Beyond peer learning opportunities, cohort members receive a range of support to help advance their preservation pipeline:
Training – deep-dive workshops to help navigate the small and multifamily preservation development process
Catalytic Grants – some organizations will receive pass-through grant support to activate their preservation pipeline and build capacity to continue the work
Technical Assistance – guidance to meet priority needs, such as business planning and assessing property feasibility
Join Upcoming Preservation Next Academy Sessions
The Preservation Next Academy offers virtual training sessions to help affordable housing owners and operators acquire, rehabilitate, and preserve affordability in small and medium properties. The academy also shows attendees how to maximize Enterprise's Preservation Next Toolkit. The extensive online resource offers case studies and guidance to help organizations and developers acquire and preserve small and medium properties in their communities.
Our webinar on March 9 will offer a deep dive into our Preservation Next Toolkit. Attendees will learn how to put a wide array of tools and resources to work in their communities.
Already, over 200 developers, housing providers, public sector practitioners, and advocates have attended the academy sessions.
While the webinars highlight preservation priorities in California, all are welcome to join these virtual sessions. Past events have featured local and national guest speakers and provided information applicable to preservation challenges across the country.
Later this year, Preservation Next will launch the Preservation Academy in Colorado and the Southeast. Our Southeast Rural Preservation Academy wrapped up in 2022. Slides and recordings from that series are available to download and view.
Below are highlights from previous California Preservation Academy sessions. Registration for upcoming academy sessions and access to past program recordings and resources are available here.  
Practitioners from The Unity Council, East Los Angeles Community Corporation, and Fideicomiso Comunitario Tierra Libre discussed their approach to preservation and key insights into future opportunities to advance this work in Los Angeles and the Bay Area.
Mission Economic Development Agency shared how they developed expertise in small and multifamily preservation and how other organizations can assess their own readiness and grow their capacity.
The San Francisco Housing Accelerator Fund reviewed the ecosystem of resources and actors necessary to scale preservation – including capital, subsidy, and capacity building opportunities for community-based organizations.
In a session focused on identifying, evaluating, and acquiring small and medium properties, a team from Enterprise presented data on property and ownership characteristics in the Bay Area and Los Angeles. Tenderloin Neighborhood Development Corporation also discussed tools and best practices to help guide acquisition decision-making.
A financing session featured speakers from Enterprise, Community Vision Capital and Consulting, Genesis LA, and T.R.U.S.T South LA on available subsidy and CDFI capital to assess a project's financial feasibility.
To stay up to date on Preservation Next news and events, sign up for our newsletter at the bottom of the Preservation Next webpage. For additional information and inquiries, please contact Sara Haas, Senior Director, and Jessie Wang, Fellow.