Enterprise launched a new issue brief series to explore recent successes in scaling affordable housing innovations by addressing regulatory and financing barriers to these innovations. The first issue brief in the series, "Making it Happen: Scaling Accessory Dwelling Units," lays out recent progress in bringing ADU development to scale.
The concept sounds straightforward: Increase housing in residential neighborhoods by allowing property owners to build an accessory dwelling unit (ADU), also called a small cottage, in-law suite, or granny flat, on their property. In our issue brief, we highlight the idea that ADU development is a housing production strategy with potential to boost residential density, diversity of housing types, and housing affordability, especially in predominantly single-family neighborhoods.
While scaling ADU development can help state and local jurisdictions achieve a range of positive housing outcomes, there are many jurisdictions where ADU development is not permitted without a waiver or variance, and even where it is technically allowed, there are often regulatory and zoning provisions in place that can create barriers and slow down construction. However, recent regulatory reforms in multiple locations around the country – especially in cities along the West Coast – have led to a dramatic increase in ADU permitting. 
What's needed to replicate these successes and jumpstart ADU production nationwide? Here are four takeaways from our research that show ways we can boost the production of ADUs across the country.
1. Start at the state and city level
State and local zoning regulations are prominent factors in shaping the form and scale of ADU construction. At a minimum, municipal governments must permit ADU development in some or all single-family zones to support ADU development. However, in many jurisdictions where ADU development is permitted, homeowners interested in adding an ADU on their lots may still face regulatory and zoning provisions that can create a range of challenges, including complex, lengthy permitting processes and reduced feasibility of creating ADUs.
State- or city-level reforms that are designed to boost ADU development can be effective. In fact, reforms have been enacted in several West Coast cities to encourage ADU permitting and production – and it's worked. Between 2013 and 2021, the number of permitted ADUs surged from 15 to 5,064 in Los Angeles. During the same period, permitted ADUs increased by five times in Seattle and rose by nearly one and a half times in Portland. These reforms include eliminating onsite parking requirements, relaxing size and height restrictions, and allowing for the construction of more than one ADU per site.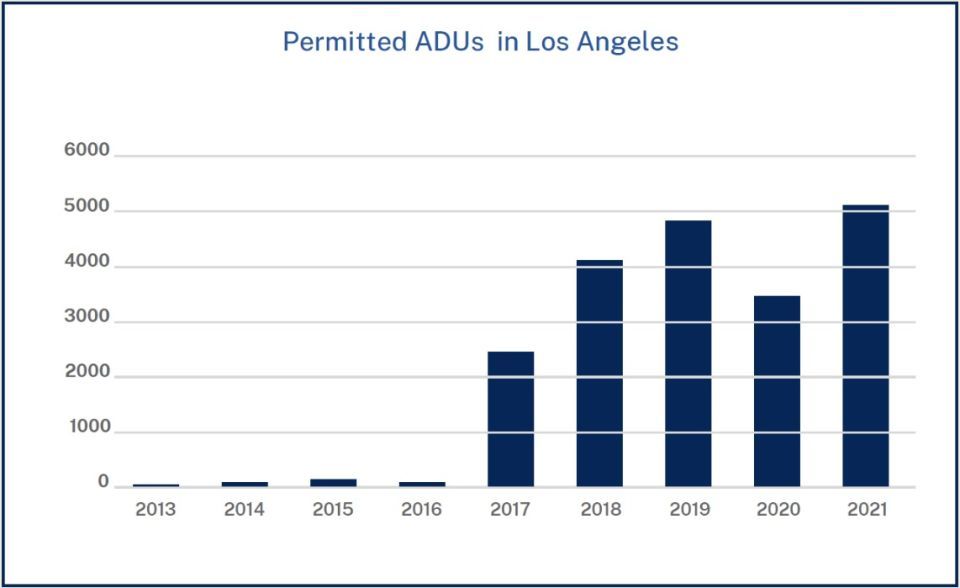 2. Look how mortgage underwriting has (and hasn't) become more accommodating of ADUs
Financing ADU construction isn't always easy. Homeowners often need to tap into cash savings or home equity to finance the development due to a scarcity of lending products tailored for ADU financing. This reliance on existing wealth typically does not work for homeowners with lower incomes and limited equity in their homes. Also, when loans used to finance ADU development do not include projected rental income in the appraisal and underwriting process, this practice often leads to the disqualification of borrowers who would otherwise be eligible.
Without the inclusion of rental income from the ADU as part of the borrower's income, the Debt-To-Income (DTI) calculation, which measures borrowers' debt load and financial stress by dividing the borrower's total minimum monthly debt payments over their monthly income, might exceed the maximum DTI allowed for the loan. Freddie Mac, Fannie Mae, and the Federal Housing Administration (FHA) have pursued policy changes that can help. Freddie Mac allows for the inclusion of expected rental income from an eligible ADU that will be added to a one-unit property used as a primary residence. FHA is updating its policies to allow for using the projected ADU rental income to qualify for FHA-backed mortgages. Furthermore, Fannie Mae offers loans that can be used by eligible borrowers to purchase or refinance a home with an existing ADU, while considering the rental income generated from an ADU to help applicants qualify for the loan.
3. ADU-specific loans exist in some places
Some private lenders have launched lending products that are tailored to financing ADU development and do not rely on tapping into home equity to access ADU financing. Examples include:
Redwood Credit Union, which offers banking services in the San Francisco area, provides ADU construction loans that include a significant share of the projected rental income in assessing the applicant's eligibility. Redwood Credit Union also includes the assessed overall value of the property with the proposed ADU, which is calculated based on the projected rental cash flows, an underwriting process that often leads to offering larger loan amounts.
First Citizens' Federal Credit Union, which is headquartered Fairhaven, Massachusetts, has launched an ADU lending product that offers flexibility to use the ADU's projected rental income in reviewing loan applications for approval.
Craft3, a nonprofit community development financial institution (CDFI) based in the Pacific Northwest, offers fixed-interest, long-term loans that may finance up to 100% of the ADU development costs, allowing homeowners to borrow up to $250,000 to cover ADU design, permitting and construction costs. This loan product offers reduced rates to qualified borrowers. Craft3 also offers flexibility in borrowers' eligibility requirements, including more lenient credit requirements.
4. Think comprehensively
Creating an environment that allows ADU development to provide a meaningful increase in affordable housing takes time and can include a wide array of reforms on a local, state, and federal level. Our research shows that jurisdictions aiming to boost ADU production have a variety of tools to use. To see pockets of success expand more broadly, jurisdictions need to take a comprehensive view to use all tools available. Expanding the number of federally backed and private ADU-tailored loan products is also a critical step alongside easing regulatory barriers to significantly boost ADU production nationwide.
---
This research was made possible through the generous support of JPMorgan Chase & Co. Unless otherwise specifically stated, the views and opinions expressed in the report are solely those of the report's author and do not necessarily reflect the views and opinions of JPMorgan Chase & Co. or its affiliates.
Read the full brief, "Making It Happen: Scaling Accessory Dwelling Units."