Mother's Day weekend saw record-breaking heat in Seattle that prompted the opening of life-saving cooling centers in King County. It's not a problem unique to Washington, but a nationwide challenge of older housing built without air conditioning colliding with rising temperatures.
Preparing for extreme heat, wildfires, flooding, and earthquakes – with an eye toward decarbonization – were among the topics discussed at the recent West Coast Climate Resilience Academy kick off in Los Angeles. Twenty affordable housing providers from Long Beach to Paradise, California, took part in the daylong in-person conference, with a dedicated virtual kick off for West Coast academy participants in Oregon and Washington.
"We want this academy to prepare our partners for the risks ahead," said Mihir Parikh, senior program director, Resilience. "Winds are picking up, storms are slower and wider, the climate is warming. The globe is feeling it.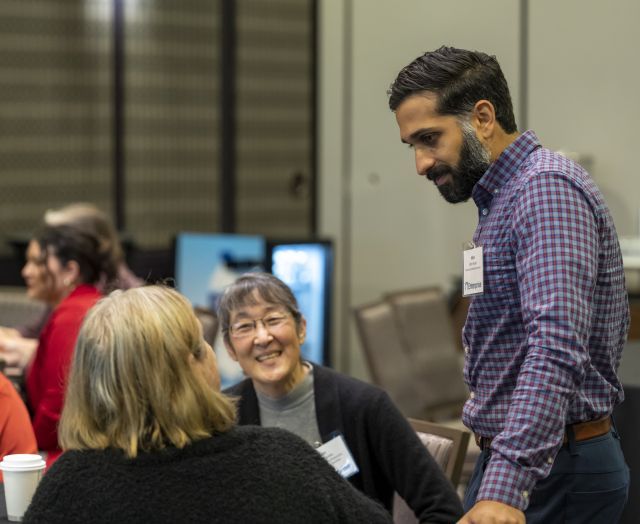 "But this is about solutions, not about problems. Even without overall readiness, awareness is a step toward preparedness," said Parikh. "And seeing the collective wisdom and dedication from our partners in pursuit of solutions is astounding.
Preparing the Housing Community
It's the fourth in Enterprise's resilience academy series – previous trainings occurred in the Gulf Coast, New York, and the Southeast. The academies are designed to help developers, owners, and operators of affordable housing make properties more resilient while reducing displacement of residents, damage to property, business interruptions, and other harmful effects.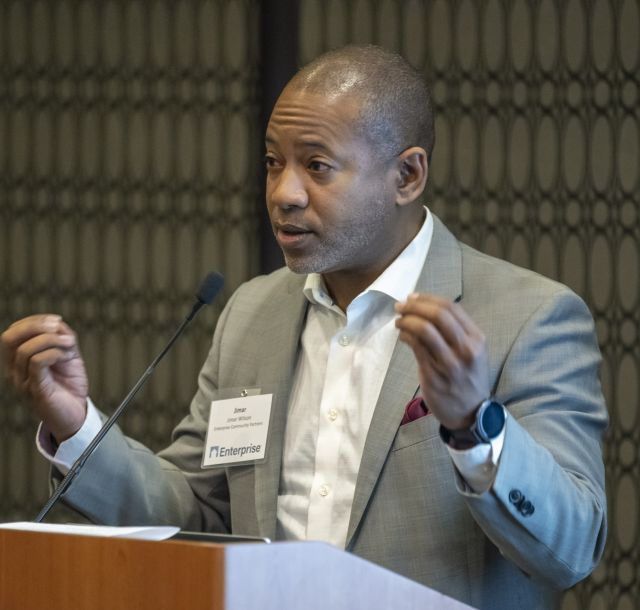 "We want to make sure that no one is left behind," said Jimar Wilson, Enterprise VP and Southern California Market Leader. "We are educating our community partners about funding available for this work, and providing one-on-one technical assistance to ensure that they have what is needed."
The housing crisis, climate threats, and racial inequity are inextricably linked – all leading to a daunting and uncertain horizon. But one thing is clear: efforts to mitigate risks must center the housing community and resident voices. In California, Enterprise built an online portal to support equitable disaster planning and recovery with significant input from the frontline community.
Michael Claproth, who leads Enterprise's sustainability initiative in Southern California, explained the approach. "Enterprise's Building Resilient Futures program is our ethos to guide the work," he said. "We do not want to helicopter in and take over. The communities impacted should lead the work."
The West Coast Climate Resilience Academy kickoff devoted a good part of the day to hearing from housing providers about what's needed to achieve a climate-resilient future.
Not surprisingly, funding is a key challenge to help nonprofits refurbish older properties and ensure residents' health and safety, while protecting property portfolios. Staff capacity also emerged as a significant concern, including the struggle to find employees and pay a fair salary. Another major barrier is the conundrum of keeping rents at current levels while covering rising operating costs.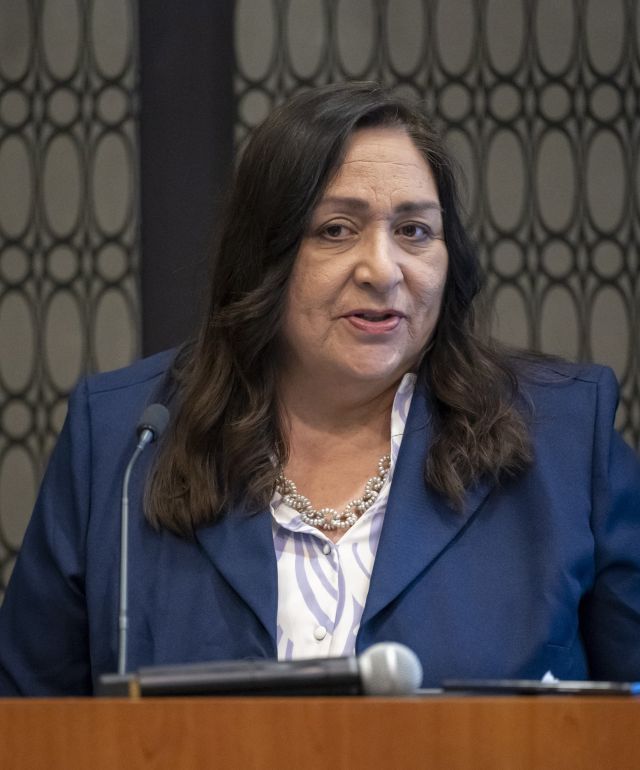 "Allies for the Long-Haul"
The day's keynote speaker, Los Angeles Chief Heat Officer and Climate Emergency Mobilization Director Marta Segura, emphasized the need for forums like the West Coast Climate Resilience Academy.
"We're happy to be allies for the long-haul, and my role is to 'unsilo' the conversations," Segura said. "These kinds of conversations are so important for us to get on the same page."
The Energy Transition
As the group turned its attention to decarbonization, academy attendees raised electrification challenges: power outages and insufficient electrical capacity currently at their properties, lack of available metrics to quantify electrification costs, operating expenses and training requirements of new energy-efficient technology, and the need to educate tenants on energy usage.
The toll on current and future affordable homes raises significant concerns as well: difficulty in buying property that is affordable and not in fire-prone areas, lack of grant funding for energy-efficient retrofits, insurance risks, and the property damage caused by the extreme heat, wind, flooding, and dust. 
The housing leaders in attendance cited key resources and funding available to address these challenges. They also created a wish list:
Training and technological support for management
Data tracking and comprehensive assessments
Additional funding for smaller and older properties
Philanthropic support for climate-resilience work
A one-stop resource for financial products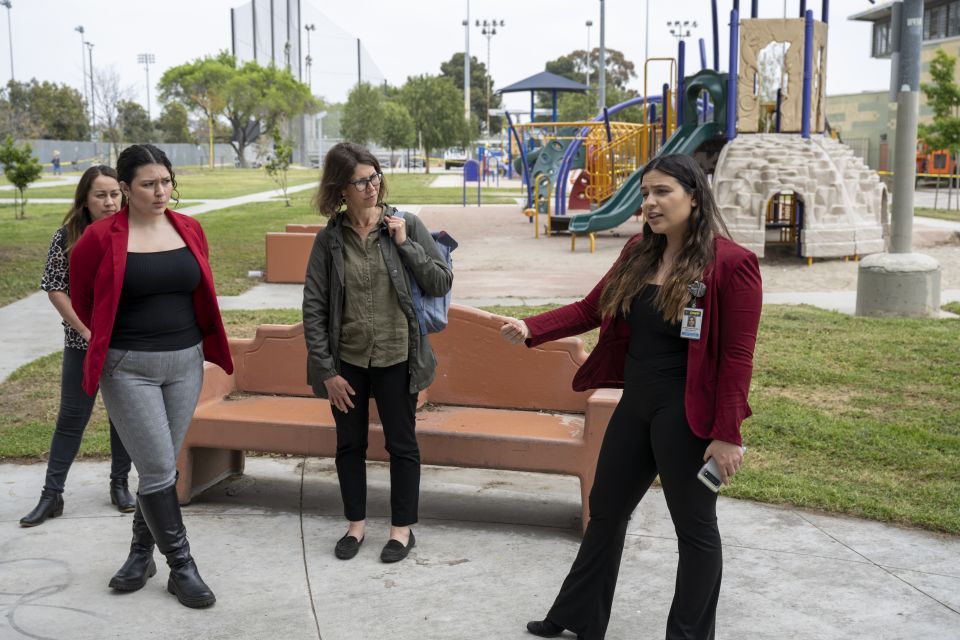 The academy also included a site visit to the Green Meadows Recreation Center resilience hub.
Once the Los Angeles Department of Water and Power completes the hub, it will provide this South Los Angeles neighborhood with shade, cooling, internet, and transportation services in a building energized with renewables and backed up with battery energy storage.
For more about Enterprise's resilience academies, contact Mihir Parikh.
The West Coast Climate Resilience Academy is made possible through the generous support of First Republic Foundation and JPMorgan Chase Foundation.