Resident services is a term of art that can take many forms. During an artfully moderated session at Enterprise's National 40th Anniversary Conference, USA Today White House Editor Romina Ruiz led panelists in an engaging conversation about services and programs designed to empower the people who live and work in affordable housing.

Ruiz began with a forewarning: "They invited a journalist to moderate the session, which basically means we're going off book," she said.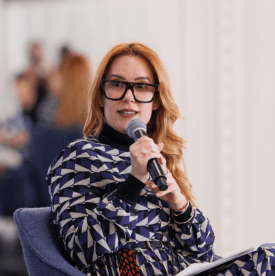 Joining the panel to field Ruiz's impromptu questions were Trevor Samios, senior vice president, WinnCompanies; Nii Sowah, vice president, community impact strategies, Enterprise Community Development; Julianna Stuart, vice president, community impact, Preservation of Affordable Housing; and Kreasha Williams, senior behavioral health consultant, University Health – Behavioral Health.
Ruiz opened by asking panelists to unpack what "human-centered" means in the context of resident services.
For Samios, who oversees the social impact arm of WinnCompanies, human-centered means not making assumptions about what people need and why they need it. Instead, it requires understanding how residents access and navigate complex systems like housing and health care. "It's about listening to people through one-on-one conversations, resident focus groups, task forces and presenting it back to communities so they are engaged in the decision-making process," he said.
Human-centered entails "looking less at what you're doing and more on how you're doing it," POAH's Stuart said. "If your services include workforce development, it's the difference between helping people get a job and figuring out what kind of job they want and why."
It's not a subtle difference, Stuart said: "When we tell people what they need, it can be very painful. If we ask, 'What is your aspiration and how do we help you get there?,' that's a very different experience and conversation. That's human-centered."
For behavioral health expert Kreasha Williams, a human-centered approach doesn't end with bringing residents to the table. "It's another step beyond that. You make sure they belong. And you value them enough to respect their views," she said.
What Covid Wrought – and Taught Us
Resident engagement – along with targeted services and support – proved crucial during the turmoil and disruption of Covid-19. "The pandemic really exposed a lot and has given us an opportunity to engage residents in an authentic way," said Enterprise Community Development's Sowah. "It's not one-and-done. It's ensuring there's respect and dignity. That's a long game."
For many residents with lower incomes, the pandemic illuminated and worsened a range of challenges, including job and food insecurity, internet barriers, and lack of emergency savings. Against this backdrop, Samios said his team pivoted to eviction prevention.
"We built a mechanism in every state where we operate to understand exactly how Emergency Rental Assistance would flow and how we could train 4,000 staff to stand up a program to allow us to come through for people and to keep our business afloat," he said.
The urgency of the pandemic peeled back bureaucracy and produced needed efficiencies. Now, he said, "We're trying to keep these efficiencies and systems where barriers are removed."
For Stuart, the pandemic arrived amid a two-year initiative to design a trauma-informed housing system. The project – one of six Housing Affordability Breakthrough Challenge innovations – allowed Stuart and her team to learn from experts like Williams to understand how the brain's fight, flight, freeze response to stress interferes with our ability to process information and manage paperwork.
That meant making intake and other processes as simple as possible – along with recognizing the pandemic's impact on community managers and other employees. "We ask so much of frontline staff," said Stuart. "Are we making sure they have physical, psychological and emotional safety?"
The Power of Good Design
Making leasing offices and common areas where everyone can feel comfortable comes down to good design, Stuart said: rooms where people can speak without worrying who can hear their conversation; areas for children to play while those conversations are happening; small respite spaces where staff can go to recharge.
Materials also matter – organic, natural materials can help us to feel calmer and more relaxed.
Said Stuart: "It's not just about creating these beautiful spaces, it's about creating spaces that work for the things that we care about," including encouraging people to renew their lease on time and resolve disputes.
Shifting the Culture
Affordable housing is also about compliance with regulations and generating a return on investment. Resident services has a role to play on that front as well.
"Point for point, every single community where we're funding a [resident} services team has demonstratively better performance," said Samios.
Referencing the Low-income Housing Tax Credit, Samios said that if every state's Qualified Application Plan required resident services to be funded, developers would make it a priority. He noted the potential to build on programs like Fannie Mae's Healthy Housing Rewards that incentivize amenities such as rent reporting to help residents build their credit.
Creative financing is part of the solution. But the panelists nodded in agreement that engaging residents with integrity and creating a platform for individuals and families to thrive goes beyond the capital stack. It takes a culture shift.
"From the very beginning to the very end," said Samios, "it's about having a focus on the people who will live in the community."
Read more highlights from Enterprise's 40th Anniversary National Conference.