The Thome Aging Well Program today awarded $6 million to Maryland and Michigan nonprofits to support aging-in-place initiatives. Twenty-two organizations — 10 in Maryland and 12 in Michigan — make up the second round of the Scale What's Working program.
Image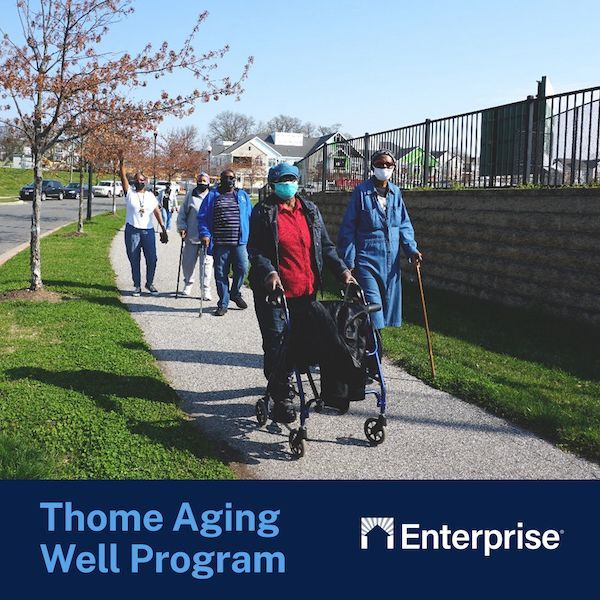 The grants, ranging from $94,625 up to $350,000, will help these organizations expand aging-in-place initiatives with a track record of success to more than 6,000 older adults. Funded by the Edward N. and Della L. Thome Memorial Foundation, Bank of America trustee, this four-year, $19 million program will help older adults living in affordable communities to age safely and securely at home.
More than 100 applications were submitted for the grants, signifying the great demand for funding to enhance and expand proven programs in senior communities.
"There is a deep need for continued support of organizations that serve the growing population of older adults who want to age in their homes and communities," said Stephany De Scisciolo, VP, Impact, Evaluation, and Population Health at Enterprise. "For this round of grants, we built on our previous success and extended the grant opportunity to any organization providing home-based services, including those who help older adults modify their homes to make it easier for them to continue to age in place."
Improving Healthy Aging for Older Adults
The programs focus on improving older adults' physical, mental, and financial health, supporting their productive aging, emotional well-being, and social engagement, as well as making improvements to the built environment that enhance their physical safety.  
Grant recipients are:
Maryland
Michigan
Learning through Collaboratives, Technical Assistance
In addition to the grant funding, each Thome Aging Well grantee will:
Participate in a multi-year learning collaborative comprised of other grantees from their state
Receive technical assistance from a third-party evaluation firm
Have the opportunity to network with funders in the field
Enterprise launched the Thome Aging Well program at the start of 2022. Over the next four years, the program will improve the health and well-being of older adults with low income by supporting organizations dedicated to:
Helping these individuals age with dignity at home
Incubating new and innovative programs
Sharing knowledge across a rich partner network
The program will prioritize organizations serving communities or groups that have and are continuing to experience persistent health inequities.
Launching Innovation Grants in 2024
Conducted in multiple grant phases, the Thome Aging Well Program will both scale efforts with proven results and foster innovative approaches to the structural barriers that hinder the ability of older adults to age well while continuing to live in their homes.
A future funding round to catalyze innovation in the field is expected in 2024.
Contact Claire Louis, director, the Thome Aging Well Program, or Stephany De Scisciolo, VP, Impact, Evaluation, and Population Health, for more information.