Enterprise's Black Women Developers Roundtable aims to advance racial equity and economic opportunity in the real estate sector. The initiative, created with support from Goldman Sachs, convenes Black women developers who are creating a policy platform to confront the challenges faced by Black women affordable housing developers in New York City.
In this blog series, we highlight the work of each participant, and share their thoughts on how to move this critical work forward.
Image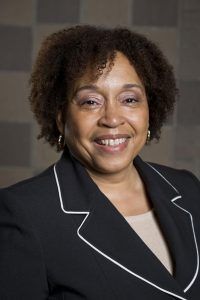 For our first interview, we spoke with Bernell Grier, executive director of IMPACCT Brooklyn, a community development corporation founded in 1964 that is committed to helping residents build and sustain flourishing communities in Central Brooklyn. Grier is a housing, community, and economic development leader and former banking professional who is dedicated to advancing housing stability, economic mobility, and racial equity.
Enterprise: What are some of the most significant barriers you have faced as a Black woman developing affordable housing in New York City?
Bernell Grier: Real estate has largely been a male-dominated industry. When a network is so tight, the questions become: Who is approached? Who is considered for the next deal? Who is contacted? Building a reputation in the industry requires having projects to showcase. Who is your champion? Who speaks for you when you are not in the room?
My experience in housing development, both as a banker and as a nonprofit developer, is that we are under-resourced and therefore operating in a playing field that is not equitable. The affordable housing industry is also dominated by for-profit developers who have generations of business development and can access financing structures and capital that may not exist for us. We suffer from the vagaries of the lack of economic and racial equity.
Enterprise: What is something that can be done right now to address these barriers?
Bernell Grier: It will take systematic change. Currently this is a moment when Black Lives Matter. To create an equitable field there needs to be massive investment. There are several programs and initiatives that are being created.
I remember when the New York Housing Partnership and New York City Housing Preservation & Development (HPD) created a program for local entrepreneurs to learn how to become developers. There was donated land, capital and other resources provided to them. The difference now is that there is no capital and/or available land in New York City to re-create such a model. Public-private partnership and a long horizon will be needed. In the meantime, initiatives like Enterprise's Black Women Developers Policy Roundtable will assist Black woman developers with advancing and growing their businesses.
Enterprise: Tell us something that you are optimistic about in the next year.
Bernell Grier: I am optimistic about this roundtable, and these talented women developers that Enterprise has put together. I am excited to put forth ideas for changes in policies and the creation of these public-private partnerships that will make a difference. I am also optimistic about the opening of 811 Lexington Avenue, a development IMPACCT is working on that will feature 64 units of senior housing. It will be occupied by December 2023.